Every month, we present to you a super easy and healthy recipe, perfect for the Busy Woman! These recipes are inspired by several creative Social Media Chefs (that's what we'd like to call them). We then try them out ourselves so that they are "Tested & Proven" by #TEAMBUSYWOMAN.
Having feasted on Brazilian barbecued meats the night before, something fresh and light was on our minds. We did a quick search for #veggierolls on Instagram and found this glorious photo by Stacey Hogan. We decided - we have to make our own version!
What better way to 'Eat your Rainbows'? These Aubergine Rainbow Rolls are super easy & quick to prepare and makes a deliciously healthy meal. Colourful, insta-worthy and definitely no post-lunch food coma - perfect for your post workout snack / healthy lunch box!
To all the Busy Moms out there, we hope your children would be enticed by these colors too!
Ingredients
1 Aubergine, sliced
1 Red & 1 Yellow Bell Pepper, sliced
1 Tomato, sliced

10 Cucumber strips
10 Carrot strips
Amazon Crunch Nuts from @maderealsg
Pinch of Salt

Cracked Black Pepper
Sprinkle of Cayenne
Sprinkle of Furikake
Drizzle of Extra Virgin Olive Oil
Preparations
We used a vegetable peeler to get thin strips from the Carrot and Cucumber quickly, because who has time to wash the mandoline right?
On a medium-high heat grill pan, cook Aubergine slices about 2-3 mins a side or until tender.
Wrap the Cucumber strips, Carrot strips, sliced Bell Peppers, and Tomatoes in a grilled Aubergine slice.
Repeat with the remaining Aubergine slices.
Throw in some healthy Amazon Crunch Nuts for that extra bite and healthy fat.
To finish, season with Salt, Pepper, Cayenne and Furikake and give your dish a good drizzle of Extra Virgin Olive Oil.
Snap a photo, post to Instagram, hashtag #TEAMBUSYWOMAN and eat!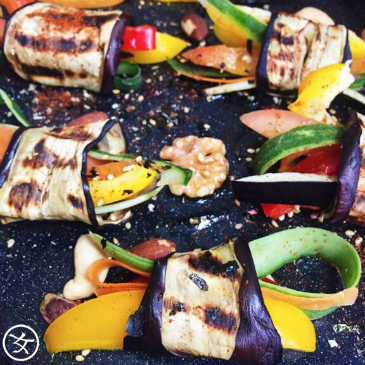 Bonus Leftover Idea
If you've got more than enough Aubergine Rainbow Rolls for one meal, place them in a baking dish.
Throw some Grounded Meat (or Tau Kwa for a meatless option), diced Tomatoes, Garlic, Onions in a pan.
Season with Salt, Pepper, Cinnamon, Oregano and Basil.
Fill the dish with this 'pasta sauce' you've just created (or a canned pasta sauce, only if you really do not have the time).
For that creamy, dense top layer, we typically mix full-fat Greek Yogurt with Eggs (or just layer the top with some Cottage Cheese).
Bake in a preheated oven at 200C, till sauce is bubbling and the top layer starts to brown.
And there you have it - Aubergine Moussaka!
Packed with protein and your daily dose of vegetables. Keeps for 2-3 days too! You're most welcome for the bonus tip ;)
If you enjoyed this article, spread the love! Share it.