Bangkok, 25th March 2018 (Sunday)
Venue: BASE Thonglor // Unit 208 Noble Remix Building 2, Sukhumvit Soi 36
Event Format
11:30am – Registration starts
12:30 – 1:30pm – Connect & Chat: Ignite Your Purpose
1:30 – 2:30pm – Sweat: 30/30 HIIT & Yoga Flow
2:30pm onwards – Refuel & Mingle
Let's get moving, chatting, and IGNITE YOUR PURPOSE with like-minded Busy Women.
Connect & Chat: Ignite Your Purpose
Explore the multiple aspects of PURPOSE - from breathing and carrying yourself purposefully to hearing entrepreneurs & leaders from top startups speak about leading their versions of purposeful lives.
Join spiritual little gangster Héloïse Chong as she takes you through simple breath work exercises and heart-opening postures - to set the intention of the day: for you to ignite your purpose and be open to connecting with like-minded people.
Then, learn & chat with speakers, including: Fitness Entrepreneur Jack Thomas; Founder & Vegan Chef of Veganerie Jajah Totienchai; Award-winning Startup Co-Founder Louis Yuvacharuskul; Moderated by: Jaslyn Koh from The Busy Woman Project
We are all busy and perhaps, caught up with routines & mundane tasks that we forget about the WHY...why we started off on our journeys in the first place. Everyone has the capability to make a difference (even if it is to just one person) and can have an impact on this world - to lead a meaningful & purposeful life. What is yours?
Let's get comfortable & chat.
Read: Actionable Insights from What is Your Life's Purpose Event in HK
Sweat: 30/30 HIIT & Yoga Flow
by The Busy Woman Project Ambassador and BASE Fitness Coach Kate Telge
30-min HIIT + mini band work - get that heart rate up, tone your body and work that booty ;), and
30-min slow flow yoga - stretch and connect your mind & body
This session is BYOM (bring your own mat).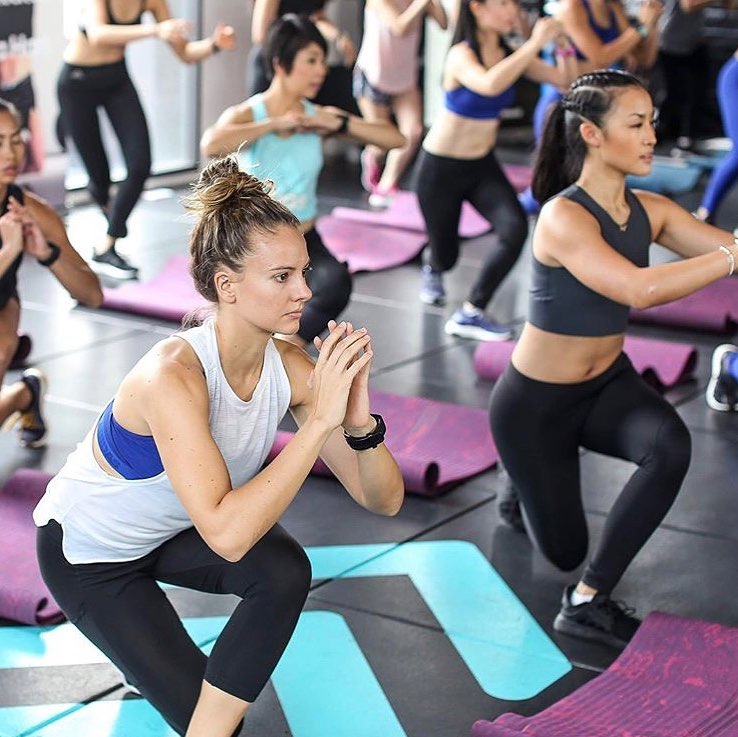 FREE FEMALE ENTREPRENEUR WELLNESS MARKET ENTRY ❤️ 🎉
Register here for complimentary access to market. Please indicate 'ONLY MARKET' under 'Question: how did you hear about the event?' if you're not attending the ticketed sessions.
Brands include: Vegan protein Pealicious, Acai from Makai Acai & Superfood Bar, Protein water from Moove, Plant-based food from Balls & Juices, Vegan banana bread from The Banana Warrior, Organic rice cakes from All-Rite.
Should you have any questions, please feel free to contact us at [email protected]
---
About The Busy Woman Project:
The Busy Woman Project exists to build resilience in busy women across Asia - empowering them to be healthier mentally, physically, emotionally and to lead more fulfilled lives.
Since the launch of the platform in October 2016, The Busy Woman Project has held SOLD OUT events in Bangkok, Singapore, Hong Kong and Shanghai.
About BASE Bangkok:
BASE is a leading boutique fitness studio in Bangkok with classes featuring a good blend of HIIT, strength, yoga sculpt and TRX.
All members can also get a 'BASELINE' assessment of their fitness and body composition (backed by charts and numbers), so you'll be able to track your progress! As part of the whole package and for your added convenience, BASE also has a clean eating concept, which includes a Clean Nutrition Pick Up Point.
About Héloïse Chong:
Half French and half Chinese, Heloise was born and raised in Toronto, Canada.
After getting sick in 2009, she found her passion to help others heal and recognize themselves through yoga, meditation and indoor cycling. Currently in Bangkok, she is a yogi on a bike - find her at Ryde Cycle and The Space.
Your purpose is what drives you even when all odds are against you. It is this deep fire within that let's your soul speak. It is the wheels that keeps turning when you want to give up on life.
About Jack Thomas:
Jack is the CEO and Founder of BASE Bangkok - a leading fitness facility in the city for group classes and personal training, with locations in Thong Lor and Sathorn. He is also an enthusiast of kettlebells, beach running, climbing stairs and coffee.
About Jajah T.:
Jajah is the Founder & Vegan Chef of Veganerie, with 4 locations in Bangkok. "Choosing between following your dream and doing what others expect of you can be difficult." She initially began her undergraduate studies in medicine to follow her father's footsteps, later changed her degree to business administration as she realized she was not cut out for the medical profession, but has since put her studies on hold to fully focus on growing Veganerie.
At just 24 years of age, Jajah is well on her mission to share good vibes and help make good change to the world.
About Louis Y.
Louis is a co-founder and CEO Thailand of Eatigo, which aims to revolutionize the F&B industry by providing yield management opportunities for both stand alone and hotel in-house bars and restaurants in Asia and beyond.
After graduating from the University College of London, UK, with a Master's degree in Engineer, Electrical and Electronic Engineering with Computer Science, Pumin returned to Thailand in 2007. He founded, and continues to manage, Nanology Co. Ltd., which produces and distributes 'Pi Water', creating a new genre of healthy drinking water in Thailand. The product has been accredited with the Prime Minister's Award as well as the G-Mark and DEmark design awards in Thailand.
Full of energy and enthusiasm, Pumin also helps out his sister, Milin Yuvacharuskul as Technical Consultant of "Milin", a leading fashion brand since 2009.
Although he seems to be a workaholic, he has a passion for sports and enjoys participating in squash tournament whenever he can.
About Kate Telge:
As a personal trainer, Kate spends most of her days working with clients and teaching group fitness classes at BASE Bangkok. Kate is also a Community Ambassador with The Busy Woman Project.
Kate wants to reach out to YOU to live better, both mentally and physically.
Read: In Conversation with Kate on #livingmypurpose: Body Positivity & Embracing Strong Female Bodies