Tricia Yap is a lady that embodies grit, resilience and strength. Her vivacious and down-to-earth personality makes her a joy & inspiration to be around with.
Who is Tricia Yap and how did you get to where you are today?
I grew up in an environment where there was a lot of pressure to perform academically; i.e.: under the stereotypical Asian father. I pursued a career in consulting after graduating from the University of Sydney with a double degree in Commerce and Science, with majors in Finance, Accounting and Computer Science.
I arrived in Hong Kong partially due to a job opportunity to work regionally and a partner whom I eventually married. The Hong Kong work culture was very different from what I was used to in Australia - I found that there were a lot of unnecessary meetings and red tape, which meant we lost agility in decisions and proposals. I had nothing in common with my work colleagues, nor did they particularly try to do anything outside of work with the team, and despite being of Asian heritage, I often felt siloed as the foreigner.
I distinctly recall one training session where a partner begrudgingly declared, with a concerted eye roll, that "since Tricia had entered the room, we had to switch channels" to English. Coming from a work culture that emphasised acceptance, agility and teamwork, it infuriated and disappointed me that despite working for a multinational company, with all work done in English, there were such close minded people at the top. On the other hand, giving up a stable job meant losing the financial security that one needed to sustain living in HK.
Throughout school and even after starting my career, I have always been active. Growing up, I swam competitively and played almost every sport under the sun. In HK, I started by exploring adventure racing, ocean swimming and would spend hours in the gym. I loved being active - it was the one thing that gave me respite from a dysfunctional family and later on, time to myself to recharge from a long day at work. I have always looked up to athletes and coaches, and dreamt of becoming someone who could inspire others in that way. Having said that, I had always believed that I was not fit enough nor did I look like a fitness guru.
Funnily enough, i got the courage through competing in martial arts to switch careers. Boxing taught me that I only have myself to fear and that my own limits are only in my mind. I started with a small jewelry brand called Bejewelled Bespoke and not very long after, Bikini Fit was the first fitness community I helped to create - an all female outdoor health and fitness community. As Bikini Fit took off, i closed my jewelry label and focused on everything I could to become a better coach. At the pinnacle, Bikini Fit had 4 locations in HK and about 350 members. After business disagreements, I made a very difficult decision to part ways from my first baby, and took a few months off.
This resulted in co-founding the Warrior Academy, which is HK's first health and fitness boutique concept to integrate fitness, martial arts, nutrition and an in-house kitchen, emphasising education, small group workouts and personal coaching. This led on to an opportunity to lead as Director of Fitness at Goji Studios, which takes what we are doing at the Academy with progressive wellness to a larger scale - to incorporate not just fitness facilities with group fitness, small group workouts and personal coaching, but also an in-house clinic and kitchen at each gym, in an environment with the cleanest air in HK.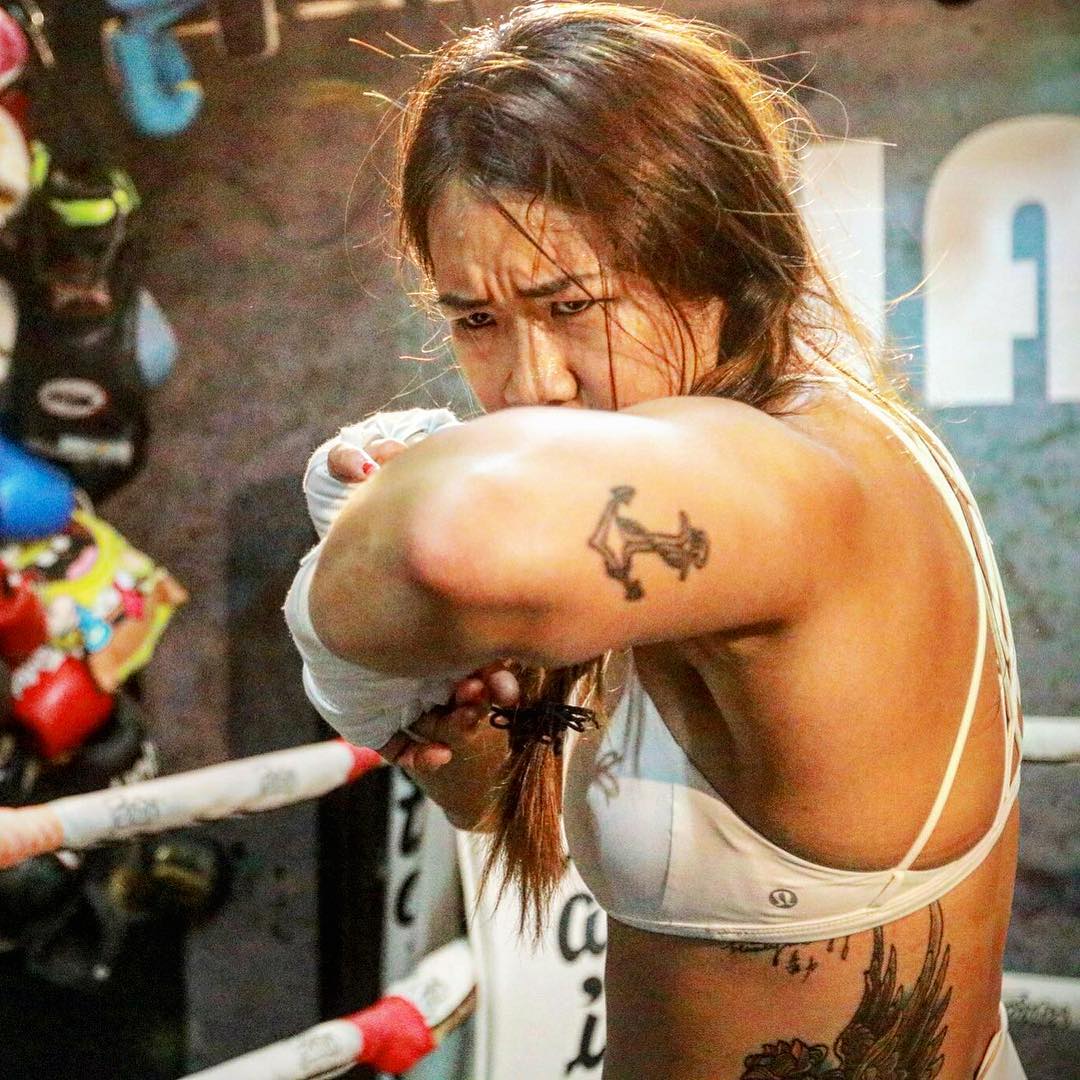 What is your typical day like?
Generally, I wake up at 5:30AM and have a quick breakfast on the way to the first coaching session of the day. While nowadays, I have increasingly less time to coach, I feel it is important to continue because I absolutely love it and it is my way of keeping an eye on the ground. The rest of my day is generally back to back with anything and everything to do with fitness at Goji, ranging from internal and external meetings, developing and reviewing our fitness offerings and service, our fitness team and recruitment, coaching coaches, marketing content, interviews, filming and shoots, emails and admin. I try to make some time to train at least four times a week - this is important as it keeps me happy, and healthy.
Do you use any mobile / web based apps to support your routine.
WhatsApp and Google Calendar are probably the two most used apps on my phone.
Share with us some gender related challenges you faced, and how did you overcome them?
In business (and I disclaim that this is my experience as an entrepreneur in Asia and as an expatriate), I have found that my biggest challenge has been how, as a woman, I am viewed as when it comes to asserting oneself as a leader and manager. Quite often, assertiveness and voicing one's own opinion is seen as aggressiveness if it is a woman, but firmness if coming from a man. I have found that it is a bit of a boy's club and I am no stranger to sexist comments on the way I dress, or my straightforwardness in communication. In terms of overcoming these challenges, I just continue to be authentically myself and let my actions and results speak for themselves.
Another example that frustrates me on a daily basis is related to how Hong Kong women view fitness for women vs men. While it's great for men to be muscular and lean, for women, it seems to be a completely different mindset. Press and media often look to elevate skinny fat models as being "fit" - when in fact, there are plenty of real life women of all shapes and sizes but have strength and health in common, who are a better fit (no pun intended) as fitness role models.
There is still a big misconception that weights would make a woman look bulky, that they want to only train for "no muscle" and to "tone", that we should strive towards the skinny girl fitness model aesthetic - when I hear that, I always have to take a deep breath and calm myself, before responding.
In reality, not only is it very difficult for women to gain muscle, muscle defines your shape (or give you that "toned" look if you like) and fat simply has no shape. This is notwithstanding all the other benefits that come with lifting weights like increased bone density, better immune system health, increased longevity, decreased body fat. While I am far from changing the mindsets and preconceptions of the general population, I am a big proponent of everyday ambassadors who are fit and healthy, and I try to educate our coaching team and ultimately our clients to understand that muscle is not your enemy, but instead, lean and mean bodies are the key to a healthier, happier you.
Martial arts as a competitive sport is male dominated, and finding female training and sparring partners in Hong Kong have always been a challenge. I have had better luck overseas in New York or London, and even Phuket, but travelling that far all the time is not an option. While I have no issues sparring or training with men, and sometimes I do even prefer it, but most of my injuries have come from men who lost control accidentally.
The key is to find training partners who are better and more technically skilled who can push you and challenge you safely. Many people forget that martial arts is a team sport, in the sense that you are only as good as those whom you train with. I am lucky to have found great teams since I started doing martial arts, and I love the team at Versus for their camaraderie, technical coaching and safe yet challenging environment.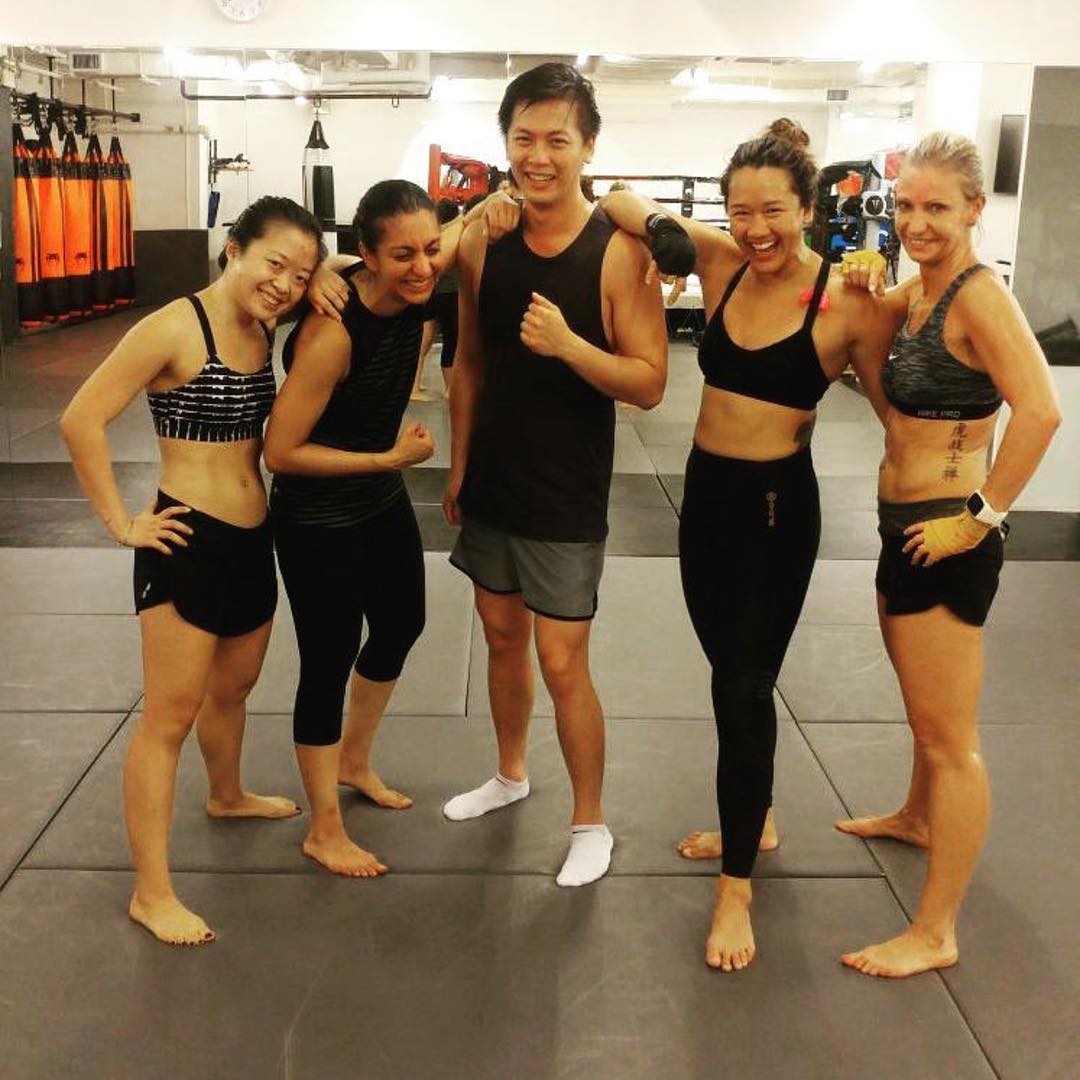 Do you think women support each other in HK?
I have only been exposed to entrepreneurship in Asia, as I was in a corporate role back in Australia. I also answer this with a perspective an an expat in Asia. I think that in the west, there is a lot more structured and developed support for women within companies as opposed to here in Asia.
At the same time, I think that the leaders in supporting women here in Hong Kong in both corporate and entrepreneurial arenas is The Women's Foundation led by Su Mei Thompson. Their mentorship program, which I have had the pleasure of being a mentee at and which was one of the key drivers that inspired me to change my career, is phenomenal and I highly encourage any woman to apply for it. Their other initiatives such as Girls in Tech, 30% club, Lean in circles, She Objects and much, much more are really driving and empowering female leaders. I do think that the government could definitely do more in supporting and empowering women in leadership roles with similar initiatives and grants.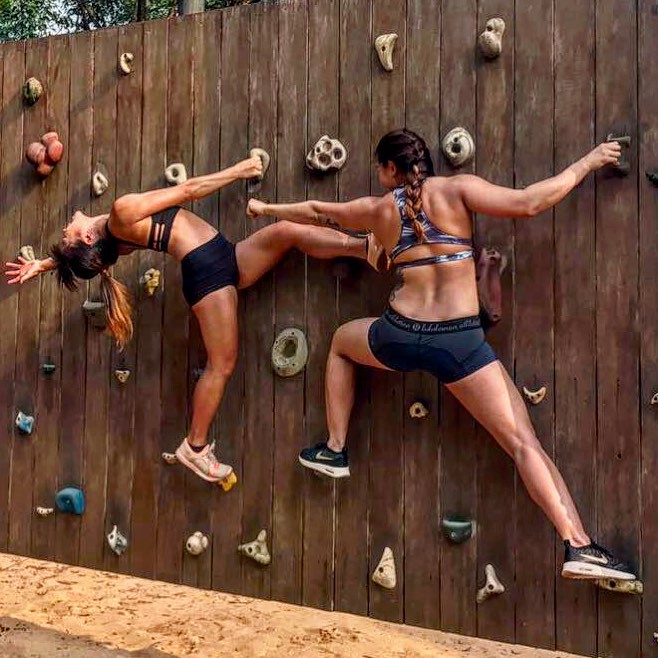 What advice do you have for ladies out there who are looking at building their own brands?
Don't spend too much time planning to perfection, without action. At the same time, don't fail to plan either. It is a fine balance between knowing when to move forward, and doing so with confidence, and when to hold back.
Find a mentor - whether this is someone who has done it before but in a different industry or someone who has had experience with coaching women entrepreneurs such as Karen See from Embrace Worldwide, or even joining a mentorship program such as the one at The Women's foundation - it is vital. A mentor will help guide you, be your sounding board, challenge you and help you grow.
Find a business partner that complements you - this does not mean that you look for someone exactly like you, but someone who has strengths where you have weaknesses and someone who understands teamwork and communicates. Hire people better than you, and reward them when they succeed. Invest in your team as scalability requires skilled resources who treat your business as their own - you cannot do everything yourself.
What is a lesson that has impacted you recently?
Finding better balance. I have always struggled with this as I am a self confessed workaholic and a perfectionist. I have learned that I simply cannot do everything myself and to let certain things go, delegate more, say no when it counts, find time for myself despite a full schedule and to take one full day a week to switch off.
In a dynamic startup environment with big goals, there have been periods where I have been so stressed, so anxious and so angry because I have not trained, I haven't seen my friends, I am inefficient at work because I'm tired and need sleep, and I simply need to rest. I now am better at recognising the signs of burning out, asking my team to assist where needed and giving myself time out when I need it.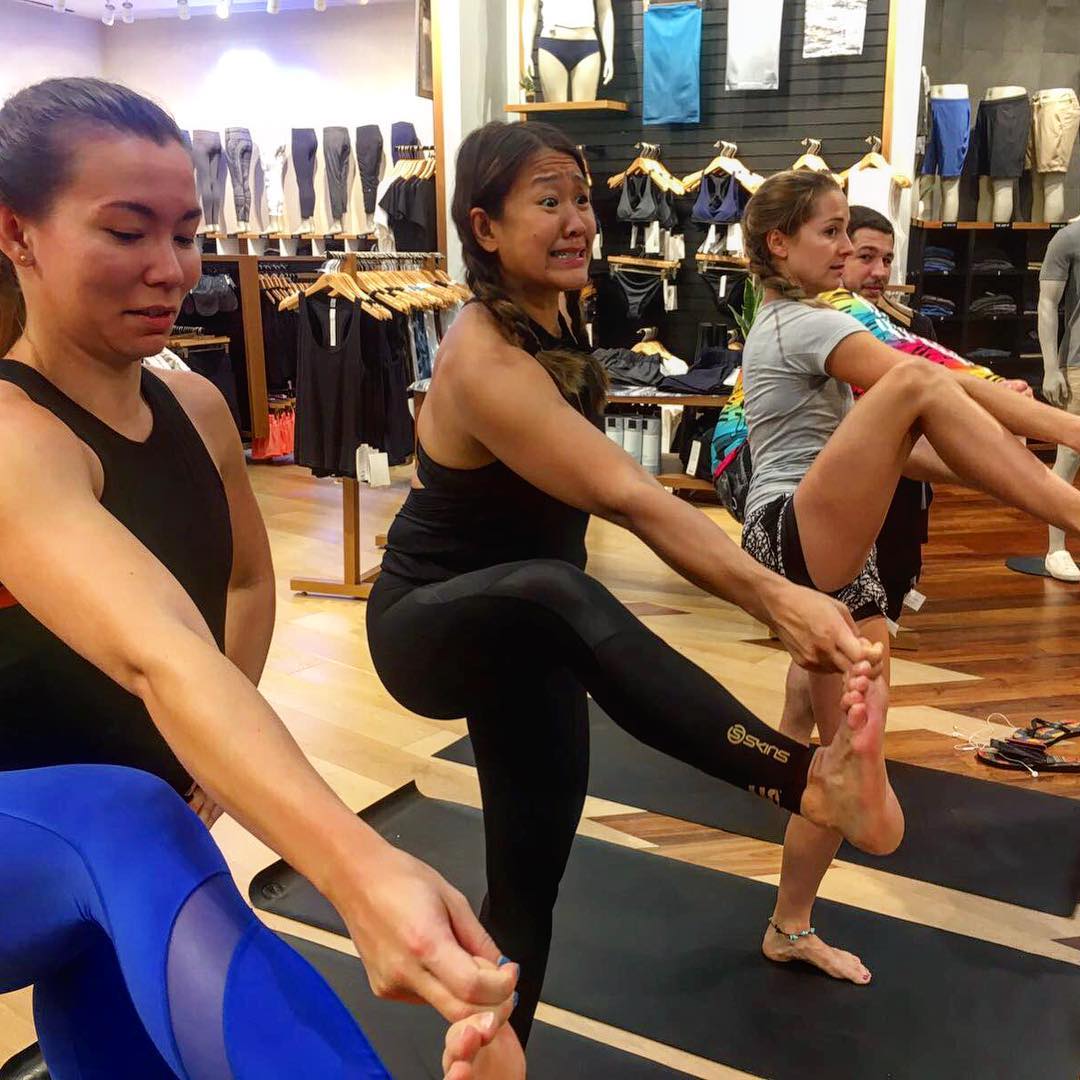 How can we further educate women to instill that belief & love in self given the many 'stereotypes' that surround Women in Asia, and to break free of those boundaries?
I think a combination of the the right role models and ambassadors, a change in what we see and what gets recognised in press and media, as well as social media, as well as having a mentor - all would contribute to help break free of the boundaries set by stereotypes today as it encourages women to be less fearful about image, but instead focus on loving themselves enough to do what they are passionate about and what makes them happy.
Through my previous endeavour with Bikini Fit, with Warrior Academy and hopefully now with Goji Studios - we hope to provide a platform for women to do all that. We emphasise a community aspect where no one is judged and everyone is welcome, our coaching team is focused on mentoring and coaching as opposed to simply giving instructions, our social media aims to educate not dictate, and we elevate and recognise the real life ambassadors we have - our members.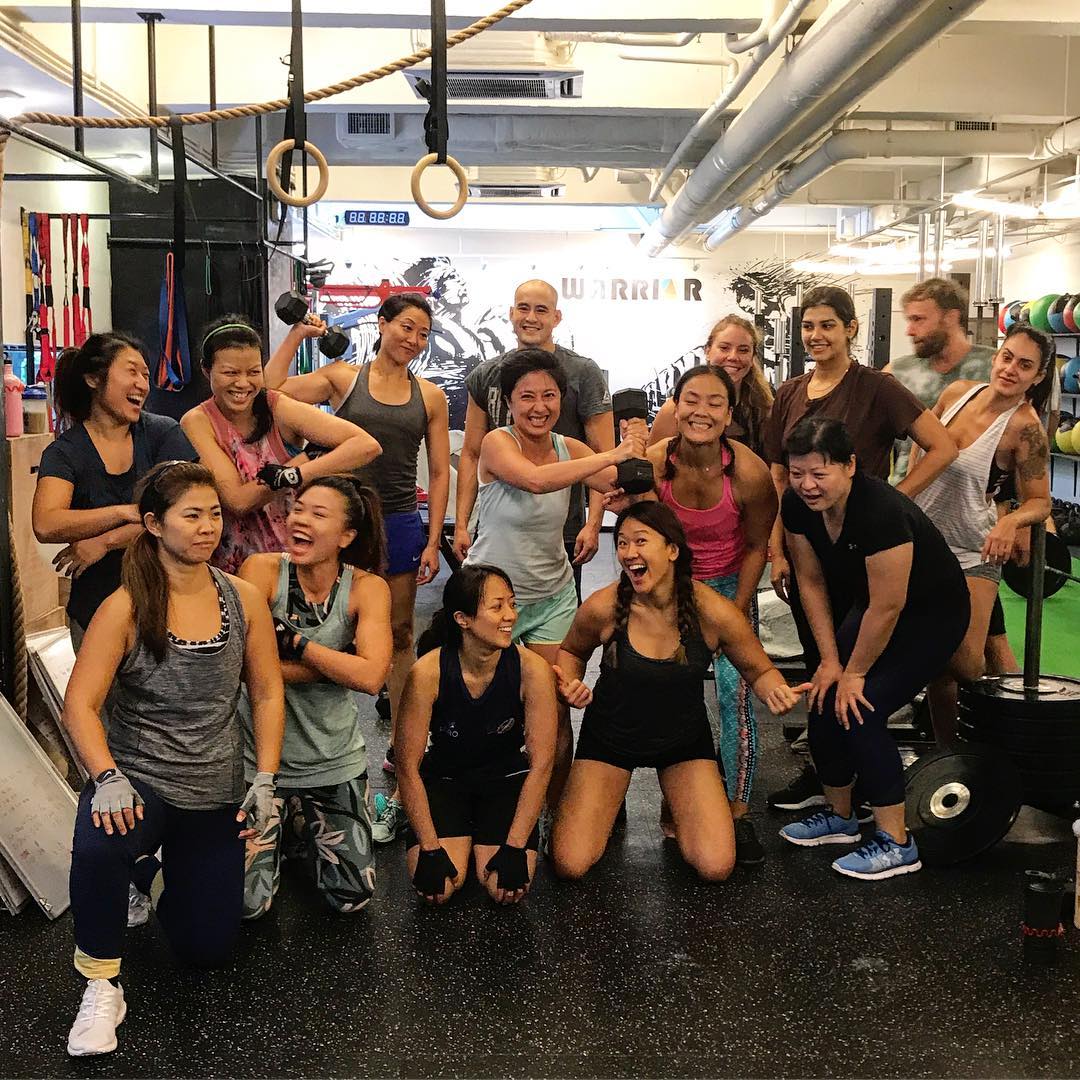 What drives you?
My mother always told me that I needed to always stand on my own two feet regardless of any situation. As such, I have always been a perfectionist and thrown everything I had into what I do - because I want to excel in it.
I have seen her struggle as an entrepreneur, through two divorces where she lost out, and after going through my own divorce lately, I am more determined than ever to keep to her advice. Moreover, when I am coaching and helping people, I am not working because I am simply doing what I love - and it never feels like a job. Politics as part of a large startup on the other hand.....unfortunately is part of the role and one where I do expend energy into ensuring I am doing the right thing, most of the time ;)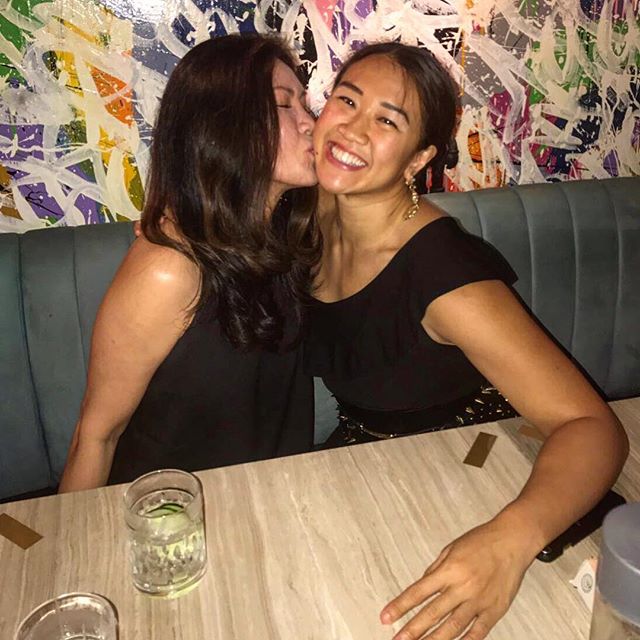 Where or what do you think shaped your entrepreneurial drive / gave you the confidence?
Stepping into the ring certainly gave me the push I needed to move from corporate to entrepreneurship. I had honestly believed that it was an impossible task and that I would fail - and in the end, I realised that everything I did at training and the people who mentored and supported me in the lead up to my very first fight meant overcoming my fears and my own limits that I had inadvertently set myself. This gave me the confidence to know that whatever I do, I should be fearless yet prepared, confident yet aware.
Armed with a plan, having a mentor (through the women's foundation leadership program), being nervous as hell and making use of a brand new stack of Post It notes (there are 100), I created the 100 days to changing my life plan. The idea was to set myself little tasks and goals each day, that got me closer to the ultimate goal. The only thing I promised myself was to stick to whatever the post it note said to do. It wasn't easy and there were days where I wasn't sure whether I should be doing it (like resigning from my corporate job!), but perseverance saw me through:)
Who or what continues to inspire you to grow and push boundaries?
I continue to learn from various mentors - people in my industry who are doing what I ultimately want to do. I travel to take courses, mentorships, seminars whenever I can for this reason. With Goji Studios, the opportunity to change the health & fitness industry in Hong Kong is what inspires me to continue to work hard to push and break boundaries.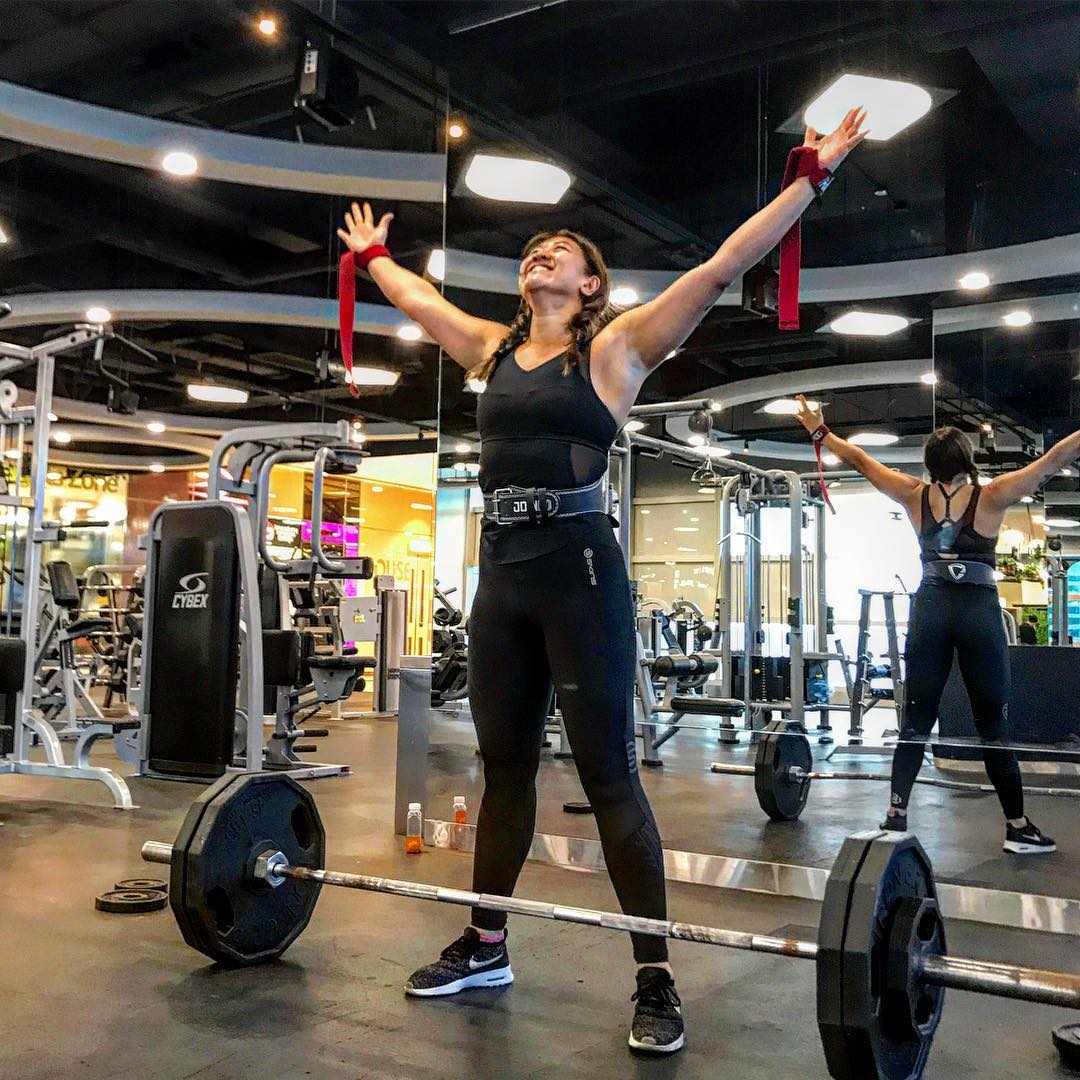 What do you think is the biggest thing or trend in the wellness scene in HK that has changed over the last few years ?
Small boutique gyms popping up all over HK has been the biggest trend in health & wellness. They are more specialist, for example, catering to only yoga or pilates, spin cycle, dance, personal training or small group workouts, or others - and appeal to people who are looking for something specific and who dislike the commercial gym environment.
What are your views on the pursuit of health and well being?
Patience and perseverance is key. Progress needs time and consistency. Time and consistency is needed to change habits and mindset. Changing habits and mindset will result in progress.
That you cannot strengthen, condition, make more powerful or lean out a broken machine - because ultimately, it's still a broken machine. Fix it first by tackling structural, hormonal, metabolic imbalances and lifestyle issues that are the root of these imbalances, then progress from there. Ending up on the floor in a heap of sweat with every training session is not necessarily your ticket to a healthy functional body for life. Train for longevity not just a short term instagram worthy photo.
What people and even most coaches don't realise is that often, as a strength/fitness coach, we are the front line between someone being sick, diseased, or injured at a doctor's. As such, coaches should not take lightly what they are doing when they are helping their clients, but instead continue to invest in their own professional development, invest in their knowledge of their clients to better provide a solution tailored for them with their best interests at heart - whether it is a new mother trying to get back into shape or a soon to be dad planning to stay in shape so he can run after his children.
Moreover, with technology now, we have fitness apps that can tell us what to do and even congratulate us on certain achievements. If we as coaches were to simply just instruct, this does not make us any different from an app. For those looking for a personal trainer or coach, look for someone who aims to educate and mentor, not simply dictate.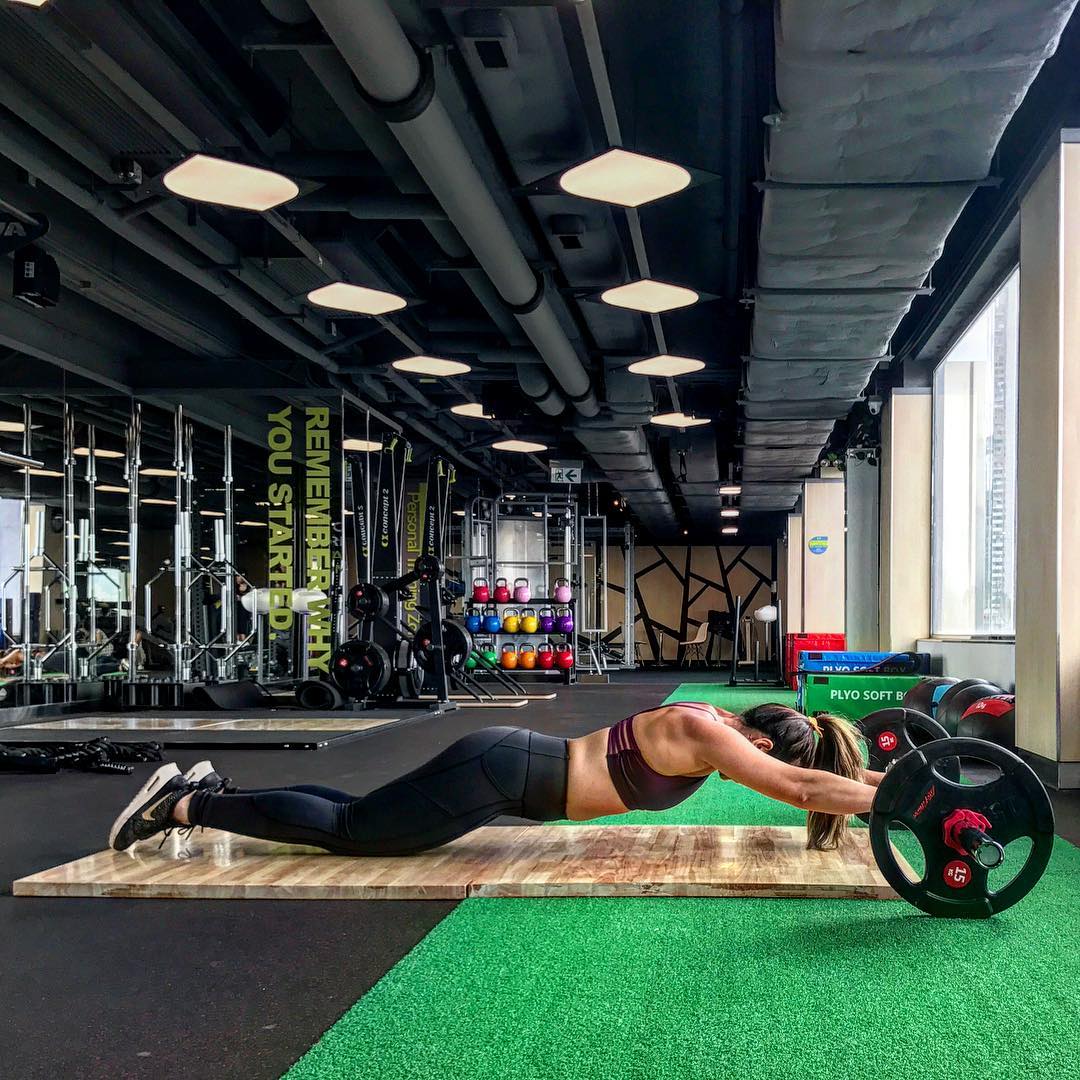 What is a simple action point busy women can take to live more healthily?
Take time out for yourself once a day, for at least an hour. This does not mean watching TV or going on social media - this means doing something without electronics and something that you draw energy from. It could be reading a book, doing a workout, yoga or meditation, going for a walk, cooking a meal with a new recipe, etc.
Resting the mind and giving yourself a time out from the furious pace of work, will help you recharge and reset.
---
Catch Tricia next Friday at TEDxTinHauWomen as she shares her journey of recovery, success and redemption after life knocked her down.
We'll be there too and can't wait to interact with all you ladies!
Inspired? Share with us [email protected]