Singapore, 1st April 2018 (Sunday)
In 2018, The Busy Woman Project set its intentions to raise awareness on building resilience; wiñth a focus on overall wellbeing. Why do some people face challenges head on and not buckle? Resilient people have been theorised to possess three characteristics: a firm acceptance of reality; a deep belief that life is meaningful, and exceptional improvisation skills.
The event is conceptualized upon this premise and in-line with 1Q18's theme: Living a Purposeful Life.
What are you passionate about? What makes you feel alive? What keeps you grounded?
Move with purpose and connect & be inspired by leaders of top homegrown brands including Serial Entrepreneur & Harvard Business School grad So-Young Kang from Gnowbe ; Ex-Sin Lee Foods Founder & Investor Sean Lim from Mojo ; COO Dinesh Balasingam from Chope ; Love, Bonito Co-Founder Rachel Lim!
Venue: City of Tomorrow
1 Raffles Link, Citylink, #B1-47, Singapore 039393
Event Format
11:00am - Registration starts
11:30am - 12:30pm - Conscious Movement & Journalling
12:30pm - 1:30pm - Fireside Chat: Living Purpose & Building Purpose-Driven Brands
1:30pm onwards - Refuel & Mingle
Ticket pass includes a free grain bowl by Mojo.
Conscious Movement & Journalling
a 'no sweat' movement flow for everybody & journalling experience by Clare Lim and Aaron Martin from SharedSpace, HK
This flow class is based on basic movement and improvisation - open to all levels of movers. Getting connected with your body and exploring different movement patterns with purpose is a beautiful, freedom of expression.
In this experience, you will explore how purposeful movement can make you feel differently in your bodies. Pen down your thoughts, change up your inner chemistry and take purposeful action in your life.
Short snippet of one of Clare & Aaron's sessions: link
This amazing duo's visiting from Hong Kong! Catch them live and enjoy their short move & flow demo after the session - only in Singapore ;)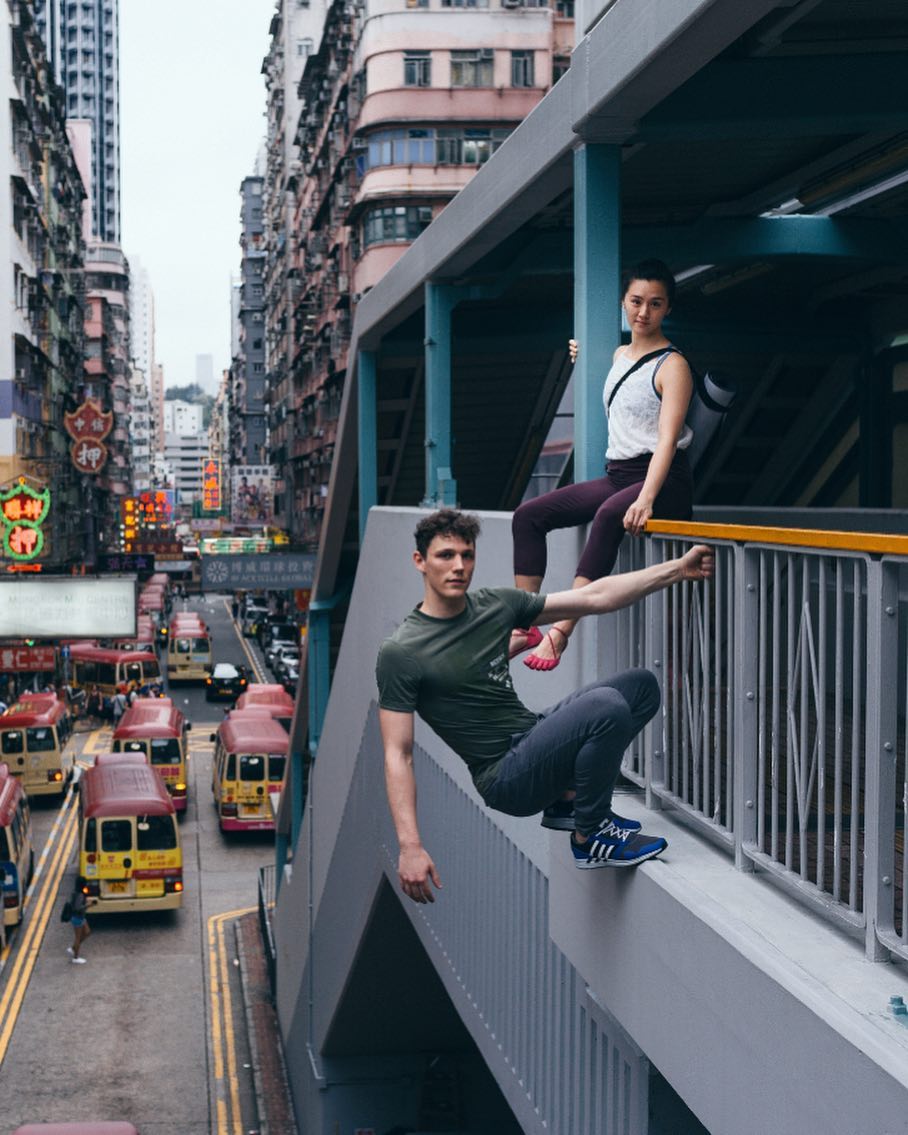 Fireside Chat: Living Purpose & Building Purpose-Driven Brands
Connect & be inspired by leaders & entrepreneurs from top homegrown brands - Meet So-Young Kang from Gnowbe; Dinesh Balasingam from Chope; Sean Lim from Mojo; Rachel Lim from Love, Bonito ; Moderated by: Jaslyn Koh from The Busy Woman Project
Hear from inspiring personalities including those who are empowering people through education, fashion, food, health - using their own purpose to drive impact in businesses and communities.
Learn, chat and take home actionable steps to discover your personal and/or your brand's purpose - the things that are important to you and keep you going.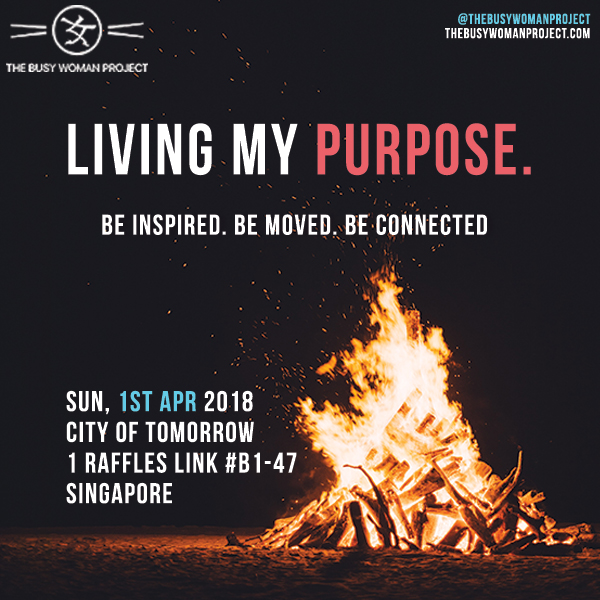 Read: Actionable Insights from What is Your Life's Purpose Event in HK
About The Busy Woman Project:
The Busy Woman Project exists to build resilience in busy women across Asia - empowering them to be healthier mentally, physically, emotionally and to lead more fulfilled lives.
Since the launch of the platform in October 2016, The Busy Woman Project has held SOLD OUT events in Bangkok, Singapore, Hong Kong and Shanghai.
About Clare Lim & Aaron Martin:
Aaron & Clare are the founders of SharedSpace, a movement studio and community, for both movement practitioners and professionals. They also love brand building, and watching other small businesses growing alongside theirs.
They are excited to be growing a friendship with the The Busy Woman Project, because they believe in the The Busy Woman Project's vision and love connecting with like-minded, women hustlers!
About Dinesh Balasingam:
Dinesh, 29, is the Chief Operating Officer of Chope - Asia's largest restaurant reservation platform and head of its Singapore office.
The epitome of the path less travelled, the then 22-year old Dinesh Balasingam joined Chope as its 3rd founding member instead of heading to New York University to pursue further studies in 2011.
This was no easy feat, and the result of Dinesh being the lynchpin in Chope's 6-year growth into one of the region's most recognizable home-grown internet brands with 9 offices, 150 professionals, and 3,000 clients.
Despite his youth, many of Asia's largest F&B companies now turn to Dinesh for advice on strategic, technology or marketing matters, and he is without doubt one of the most prominent names in Singapore's dining hospitality community. He is often approached to
share his experiences at various seminars and technology industry events alongside peers from Uber, Spotify and Netflix.
As Chope's COO, he now oversees operational matters for the tech company which has received investments from the likes of Singapore Press Holdings and Alibaba's ex-CTO John Wu. Colleagues will attest that he's often the first person in, and last one out the door
well after midnight, and despite running a team managing thousands of restaurants knows the intimate details and backstories of almost all of them. Perhaps most telling is the respect that Chope's more senior executives and board members accord to Dinesh, knowing that
few 20-somethings have accomplished so much from so little, so fast.
About So-Young Kang:
Serial entrepreneur So-Young Kang is the Founder and CEO of Gnowbe, the first mobile 1st learn-by-doing platform that re-teaches how to teach and empowers a new way of learning. She is a serial entrepreneur having also founded Awaken Group, a multi-disciplinary Transformation Design (TD) firm.
So-Young was nominated by the World Economic Forum as a Young Global Leader. She is an author, Huffington Post blogger, TEDx speaker, Harvard Business School grad and former McKinsey consultant.
About Sean Lim:
Sean is a Partner at a Family Office that typically invests in Real Estate and recently started investing into new industries - namely, startups in Tech and F&B.
Sean is also the founder of Mojo Singapore, a leading Grain Bowl/F&B establishment in the CBD. He was also the owner & chef of Sin Lee Foods.
About Rachel Lim:
Rachel is the Co-Founder and Chief Brand Office of Love, Bonito - the largest homegrown fashion brand - empowering women's confidence by educating them to dress well and right.
With a current team of 80, the brand has strong local and retail presence across Singapore, Malaysia, Indonesia and Cambodia, while also shipping internationally from the HQ in Singapore.
Rachel was also recognised by Forbes as Asia's 30 under 30, as well as in the 2016 Prestige Singapore's 40 Under 40 list of upcoming movers and shakers.