Give hope to the women & children of Star Shelter. Proceeds raised will help them rebuild their lives free from violence.
Singapore, 7th January 2017 (Saturday)
Event Format -
3:30pm: Registration & Networking
4:30pm: SWEAT by Marcela Cmarkova (Chief Instructor at BBOUNCE);
OR
FARM-TO-TABLE by Dosirak X Super Farmers
5:30pm onwards: Refuel & Mingle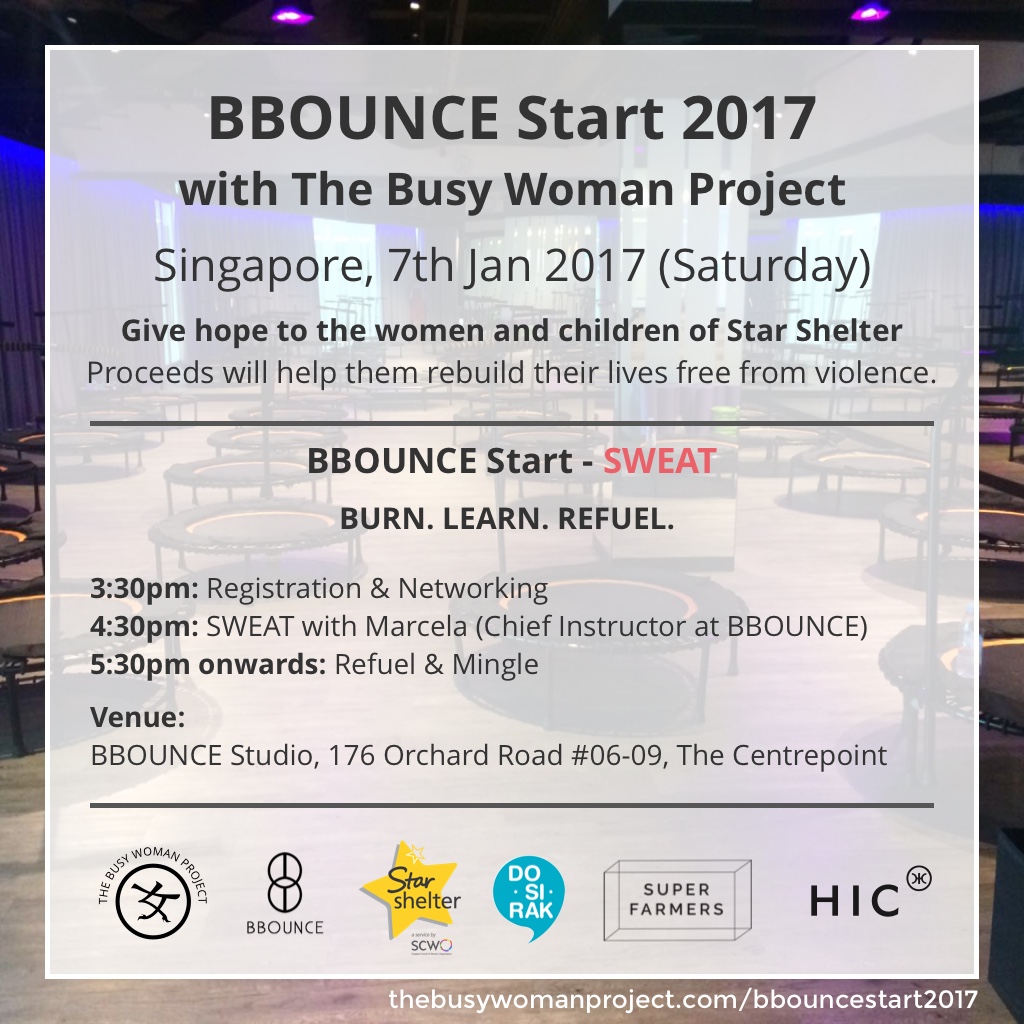 BBOUNCE Start - SWEAT
BURN. LEARN. REFUEL.
Meeting like-minded people does not just have to be over coffee/drinks…For Busy Women looking to grow your networks, build meaningful friendships, be inspired, and yet maintain an active lifestyle!
For this edition, we've partnered up with BBOUNCE Studio, Singapore's 1st dedicated rebounding fitness studio. The class incorporates mini trampolines with weights and strength training to give you a dynamic workout to awesome music beats!
Refuel with Dosirak and HIC & learn about the top foods to consume post workout!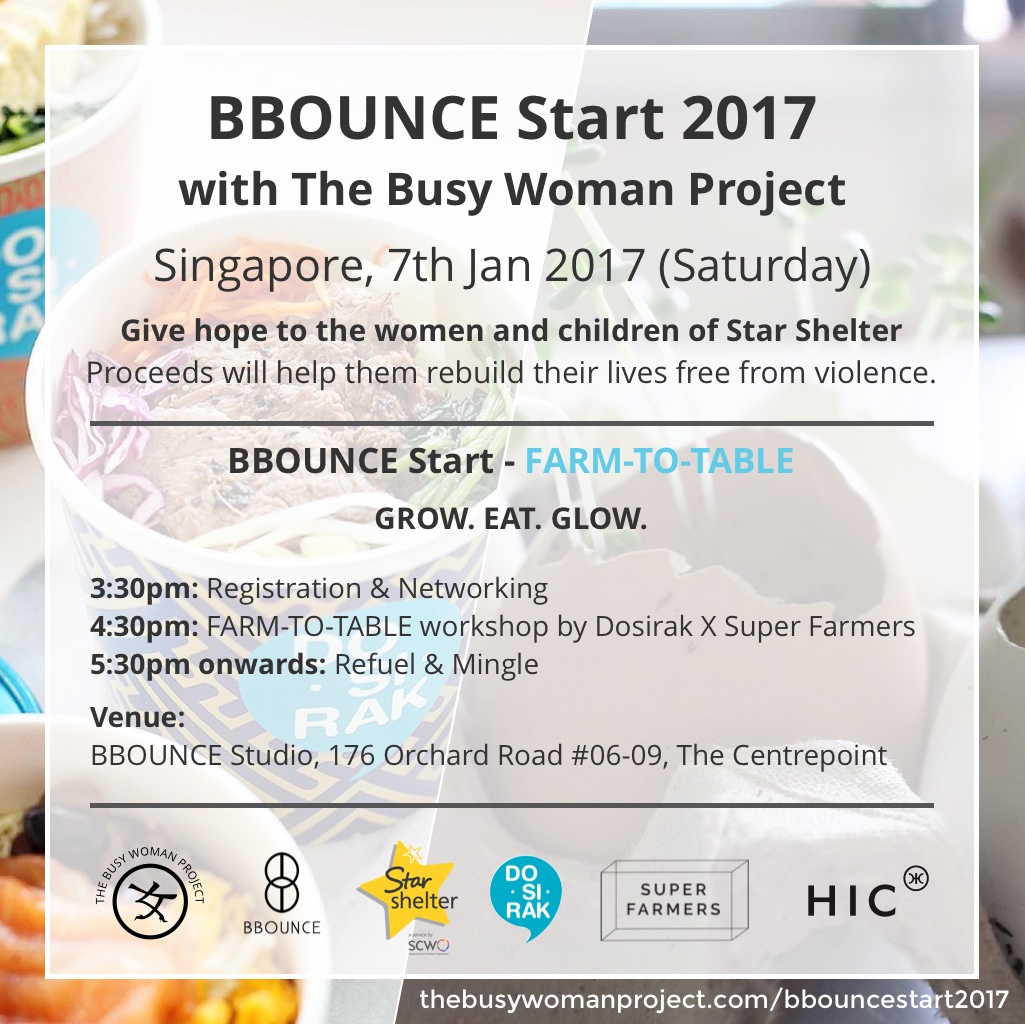 BBOUNCE Start - FARM-TO-TABLE
GROW. EAT. GLOW

Hands-On Workshop: a Collaboration with Dosirak X Super Farmers
Many of us are aware of the importance of maintaining a healthy diet & living despite our busy schedules...what we eat does indeed have a direct effect on our daily lives and energy levels...how can we incorporate some little changes to live better?
Learn to be more mindful about your food and to be conscious about where your food comes from. Get hands-on and grow simple herbs like mint / spring onions with recycled materials and continue to grow the plant at home!
Enjoy some wholesome food & take home a recipe by Dosirak X Super Farmers. Eat Well, Live Well!
++++++++++++++++++++++++++++++++++++++++++++
About The Busy Woman Project:

The Busy Woman Project is a community for Busy Women living in Asia to live, feel and be better.
In today's society, women are juggling multiple roles, both professionally and at home - entrepreneur, partner, student, mom, working professional, wife, friend, frequent traveller and so on. With so much on our plates, there are times when things can be alittle overwhelming, times when we strive to find that 'balance', times when we wished we had more support or someone to look up to….
We created this initiative for these very reasons - to access Busy Women living in Asia, understand the 'pain points' & goals and, more importantly, to provide the support & structure to our community.
About BBOUNCE Studio:

Singapore's 1st dedicated rebounding fitness studio. Their classes incorporate mini trampolines with weights and strength training to give you a dynamic workout to awesome music beats!
About Star Shelter:

Star Shelter aims to provide a safe environment for residents to rebuild their lives free from violence. The shelter takes a holistic approach in helping all residents, providing them with basic needs such as safe accommodation, clothing and food. About 140 women and children benefit from the program annually.
Star Shelter hopes that with the continuous financial support given by individuals and organizations, more residents could be empowered to break this vicious cycle of violence.
About Dosirak:

DoSiRak - which means 'lunch box' in Korean, aims to bring carefully prepared, healthy & tasty meals to you, and at your convenience! Drop by your nearest DoSiRak or get your sumptuous and freshly packed Korean lunch box delivered. It is delicious and wholesome - a convenient solution for the Busy Woman to improve your daily wellbeing!
About Super Farmers:

An online retailer of urban farming and gardening items, especially catered to small and sun-starved spaces.
Super Farmers aims to make everyone in Singapore a Super Farmer by making food gardening simple and convenient for urbanites to create their own edible gardens.
About HIC:

HICJUICE is one of the ways of complementing your move towards life's lighter side. Raw, vegan, cold pressed and formulated by nutritionists.