Find something that makes you happy - whether it is breaking a sweat while shaking your booty, creating your own breakfast bowls, or slowing down and appreciating your bodies & the importance of self-love.
Hong Kong is a Busy & Bustling city.
Find that (little) 'me-time' for yourself to be better.
Feel good over an afternoon of Fitness, Food & Wellness, Workshop and more on 11 March 2017 (Saturday) in Hong Kong. Meet like-minded Busy Women and let's talk, share & inspire one another. We want you to live, feel and be better.
Support Your Local #NuConnective. Receive free Curated Goodies, Sample and Refuel with Healthy Eats by Women-led small businesses / brands in the Health, Fitness & Wellness space, as well as network with Health & Fitness bloggers / influencers.
Hong Kong, 11th March 2017 (Saturday)
Event Format:
#feelgoodHK Marathon: SEROTONIN @ The Hive Central
Venue: The Hive Central, 14/F Manning House, 38-48 Queen's Road Central
3:00pm - Registration starts & Networking
4:00pm - 4:15pm - Balance & Bravery with Nicky Inge (Community Ambassador with The Busy Woman Project)
4:15pm - 4:50pm - I AM Movement with Siobhan Dumigan (I AM, Community Ambassador with The Busy Woman Project)
4:50pm - 5:00pm - Strong not Skinny with Daniella Means (Project Manager at Ultimate Performance)
5:00pm - 5:30pm - Making Brekkie Great Again with Jess Cheung (Founder of Health Box HK)
5:30pm onwards - Refuel & Mingle
All inclusive in the entry price
Get your fix & receive goodies from BE-JUICED, FITYO protein froyo, GuavaPass, Jou Sun, PÜRA VÏDA overnight oats, QUO probiotic kefir yogurt, Rude Health, and more! Get to screen print your own #GIRLPOWER SLOGAN tee with Print House. Plus stand a chance to win GuavaLite & Float On packages at the event!
[Enter Promo Code: 'SWEATBUDDY' when you get 2 or more tickets to SEROTONIN @ HK$80 each, U.P. HK$120]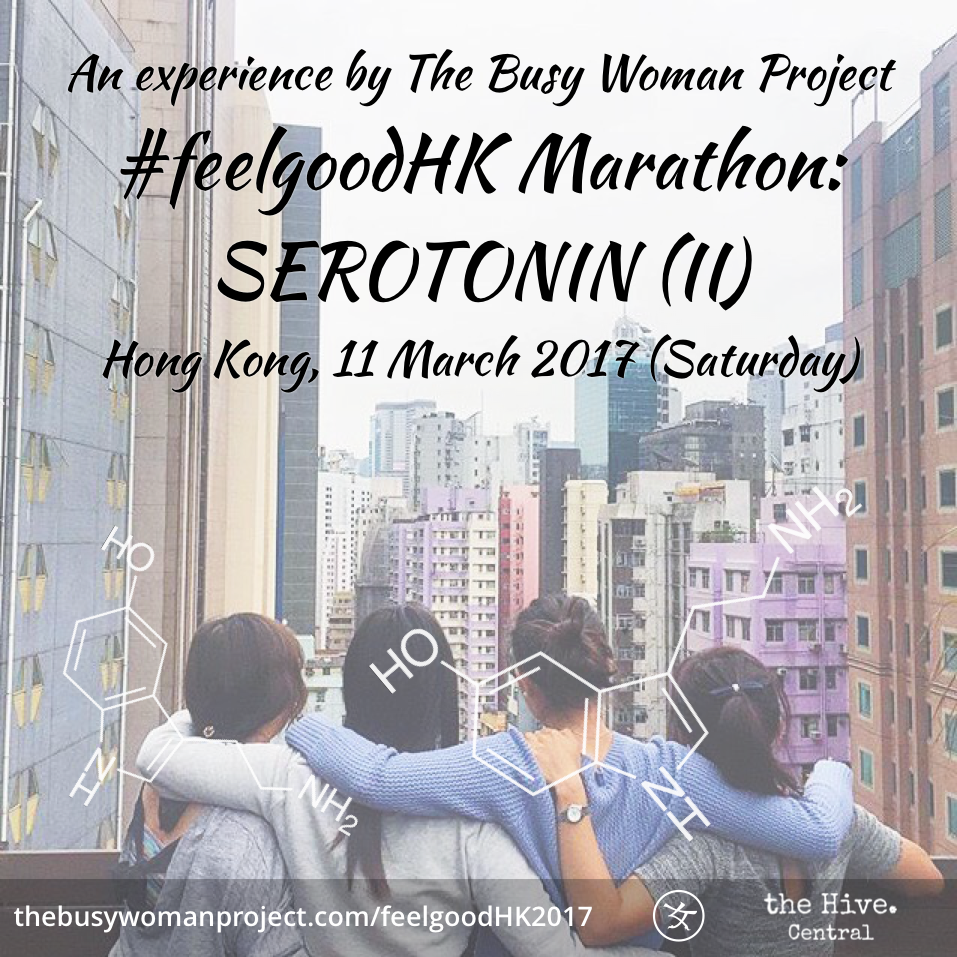 SEROTONIN: Balance & Bravery
a Flash Talk by Nicky Inge
Being a full-time lawyer, Nicky has always tried to strike a balance between her professional career and her interests in fitness & wellness.
What initially was just about aesthetics & personal care turned into a passion to excel and also help other women. Nicky is currently looking to get certified in Health Coaching to reach out to more women to live better.
Coming from a traditional Chinese family, being a lawyer seemed like "the right thing to do". This is a common theme amongst most Asian families - you do what your parents want you to do.
However, life is short. Your work is going to fill a large part of your life, and the only way to be truly satisfied is to do what you believe is great work. And the only way to do great work is to love what you do.
Find the courage to follow YOUR heart and aspirations!
SEROTONIN: I AM Movement
a Movement class by Siobhan Dumigan
YOU are beautiful, the way you move is beautiful. Let's celebrate our diversity in movement.
Feel free in your bodies, own your bodies, love the way you feel moving in your bodies, love your bodies. These are all steps towards self-love.
We want each & every one of you in the class to feel supported and loved. No matter where you are in your journeys, there is a support system for YOU and today it's with The Busy Woman Project.
This class is suitable for all. You will learn how to express yourself through movement and learn there is no wrong way to move or express.
SEROTONIN: Strong not Skinny
a Flash Talk by Daniella Means
What does "Strong" mean?
The human body is an amazing thing, and women especially do not seem to realize that. We produce babies, can run ultra-marathons better than men, have a much higher pain threshold, and we are STRONG.
So USE that strength. It's often our own brains telling us we "can't" be strong(her), or perhaps it's society!
Daniella wants to break this gender stereotype! YOU are so much stronger than you think.
SEROTONIN: Making Brekkie Great Again
a Brekkie, Food & Nutrition Workshop by Jess Cheung
Breakfast bowls (think porridge & smoothie bowls...) that taste and look yummylicious? Yes please!
Learn how to make your own nourishing and delicious brekkie delights, which can easily serve as your post workout refuel with some easy food swaps & adds! Plus hear nutrition tips including on Women & Protein...and Make Brekkie (+ mornings) Great Again!
We all know how it's important to fuel our bodies with wholesome, clean food. Yes, self-care is essential despite your busy schedules!
Be equipped with valuable knowledge and try prepping your own insta-worthy breakfast! Is that something that makes you feel good?
Sample muesli, granola & porridge pots post Demo Workshop - products by Rude Health.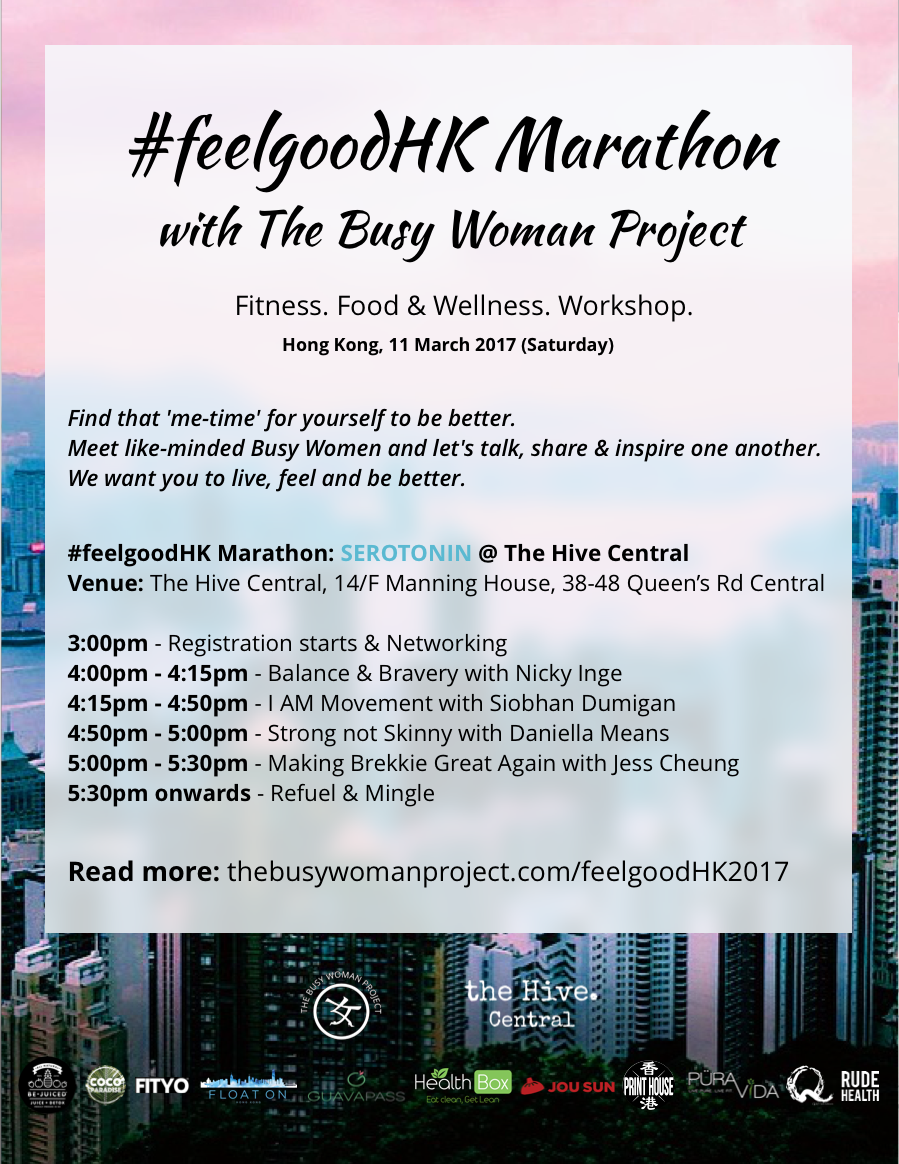 ++++++++++++++++++++++++++++++++++++++++++++
About The Busy Woman Project:

We connect, inform and support Busy Women living in Asia to live, feel and be better.
In today's society, women are juggling multiple roles, both professionally and at home - entrepreneur, partner, student, mom, working professional, wife, friend, frequent traveller and so on (I am sure you are a very Busy Woman too!).
With so much on our plates, there are times when things can be alittle overwhelming, times when we strive to find that 'balance', times when we wished we had more support or someone to look up to….
We created this initiative for these very reasons - to provide the support & structure to our Busy Women community, as well as to Women-led small businesses / individuals in the Health, Boutique Fitness & Wellness industry in Asia - both existing & aspiring (whether you are a boutique fitness studio owner, personal trainer, influencer / blogger, etc). We want women to live, feel and be better.
We hope to achieve our objective and reach out to more Busy Women through multiple touchpoints including content on Boutique Fitness, Healthy Eats, inspirational Busy Women stories, as well as on-the-ground events.
Since the launch of the initiative in October 2016, The Busy Woman Project community has held SOLD OUT events in Bangkok, Singapore and Shanghai. We also have Community Ambassadors who are based in China, Hong Kong, Indonesia, Malaysia, Singapore and Thailand that help connect and support the community locally.
About The Hive Central:
The Hive Central is designed to be a beautiful coworking space for fintech start ups, creative entrepreneurs, consultants and specialised freelancers. The space has an open plan workspace with hotdesks, dedicated workstations, stylish private offices and a huge outdoor shaded terrace
Located in the heart of Central, the Hive Central is incredibly conveniently located for all those with a need to be based in the heart of Hong Kong.
About Nicky Inge:
Nicky is a qualified lawyer and spends at least 12 hours a day at her desk. Despite her busy schedules, Nicky chooses to prioritize her health & fitness with great self-discipline.
She competes in obstacle races, is a smoothie bowl maker, as well as a Community Ambassador with The Busy Woman Project.
Having a strong interest in health & wellness, Nicky is looking to obtain a certificate in health coaching and finally turning her passion into a profession.
About Siobhan Dumigan:
Born and raised in Hong Kong and of a mixed Irish and Chinese ancestry, Siobhan Maire Dumigan grew up with a strong background in ballet and contemporary dance. Following her passion, she pursued a Bachelor of Fine Arts in Dance at the Queensland University of Technology.
Siobhan's athleticism is also evident in her professional certification in Pilates, group fitness, personal training, rebounding, Crossfit and Yoga. She was also featured in Omberry's Living Aesthetics Wear campaign.
Being one of the first performers since the beginning of I AM, her growth has led her to her current position as I AM's Artistic Director in Hong Kong.
I AM is the brainchild of American Director and performer Kate March. The passionate and powerful all female collective is based in Hong Kong and New York City. With a growing team of talented artists and visionaries, I AM continues to inspire international audiences with imaginative dining and conceptual fashion experiences using dance and live art as a foundation.
Siobhan is also a Community Ambassador with The Busy Woman Project.
About Daniella Means:
Daniella is a Project Manager at Ultimate Performance. She is also a competitive powerlifter and "Strongman" competitor and has just competed in the Arnold Sports Festival in Ohio - Daniella is officially the 7th Strongest Light Weight Strongwoman IN THE WORLD!
Daniella has been very active since she was a kid - she was previously a gymnast for 8 years and had a full time professional contract with the HK Rugby Union.
Life hasn't always been smooth sailing for Daniella, but training has always been an integral part of her life and has helped her get through difficult situations. Just like how many women can relate to their love-hate relationships with food, it was something she struggled with in her youth. Today, Daniella is grateful for her healthy relationship with food.
Daniella loves that she has the opportunity to combine something she loves, her business background, as well as to reach out to & help people with their own fitness journeys as part of her career. This is definitely something she sees herself doing for a while!
About Jess Cheung:
Jess Cheung is the founder of Health Box HK - providing tailor-made meal plan services to the city workers in HK, according to their health / fitness goals. Jess was born in Hong Kong but moved to U.K. at a very young age. She grew up in the food & service industry; her family runs their own restaurant, takeaways, etc in U.K. Jess has over 8 years of experience in the kitchen and graduated with a Bachelor Degree in Human Biology and Food & Nutrition.
Photo credits (HK skyline): Shriya Sacheti