It was a beautiful, breezy Wednesday evening in Singapore with the famed Marina Bay Sands of Singapore across us, and the Customs House just behind; so close you could see people clinking their glasses at the Mexican restaurant nearby. As we got ready for our Midweek Sweat Sesh, unrolling our yoga mats, we heard, "…by the end of this session, you would have completed five different types of burpees…" Burpees are definitely one of those movements we love to hate – who's with us? Midweek Sweat Sesh was an apt name for the workout indeed, as we ended the session on a high, and were absolutely drenched!
The class was as tough as you wanted it to be, modified to suit any injuries or conditions you had, and that allowed for a positive & safe fitness experience! With progressions and regressions for each exercise in place and demonstrations on correct techniques, even those who are pregnant, or have injuries and mobility issues can exercise along with the rest of the group. We especially enjoyed the partner workouts – perfect for those of you who like some friendly competition, or simply need some cheering on. With the session held outdoors, the public eye also held us accountable, and helped us keep our 'A-game' up. Not a bad idea at all!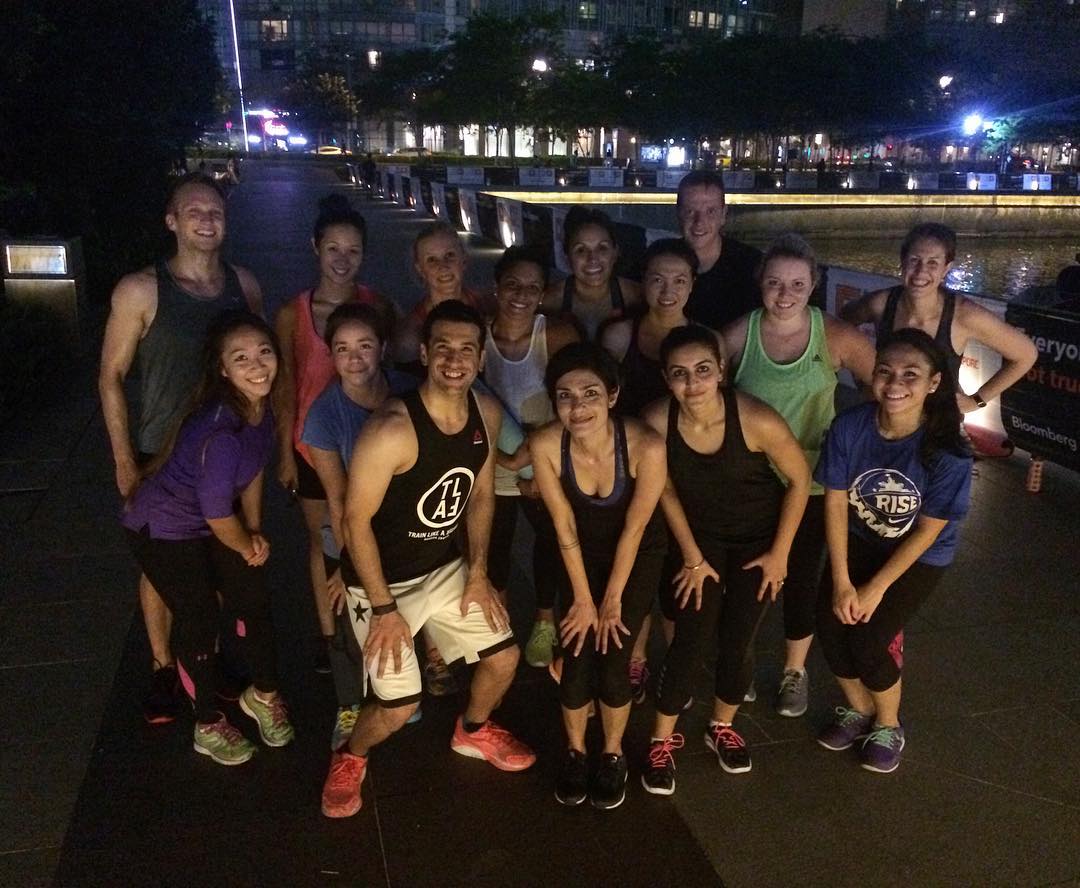 The founder of Eat Train Love ("ETL"), Cheryl Lin, conducted our outdoor sweat session. Her extensive experience includes numerous certifications and accreditations in fitness and nutrition acquired whilst in New Zealand and Singapore. In order to better service her clients, Cheryl is driven to improve her knowledge in her field on a consistent basis even after her relocation to Singapore in 2010. She most recently completed her certification in Elite Plant-Based Sports Nutrition, ZUU Level 1 Cobra Accreditation, as well as a teaching accreditation with Barre Body Australia!
Coming from a behavioral and sports psychology background, Cheryl believes in and preaches the same at ETL, that discovering and addressing the root of the problem is imperative in helping her clients stay on track. At ETL, the focus is on empowering individuals to ultimately adopt good fitness & sustainable nutrition as part of their lifestyles, and achieve balance from within. "Anybody can go on the internet to print out a workout or a diet plan" – but that does not mean that they would stick to it if they have picked up bad habits previously, or if there are other behavioral issues that are not addressed.
Driven by wanting to make a difference in other people's lives, Cheryl's mantra is "to leave the world a better place than when you entered it". On a personal level, Cheryl no longer consumes meat and where possible, supports fashion brands that are vegan and ethically produced.
With a kind heart, this busy lady also organizes events through ETL that support runners in their training for the Angkor Wat Half Marathon in Cambodia, as well as fundraise for organizations such as New Cambodian Artists (a group of 4 young women who are striving to raise awareness on female empowerment and to fight against domestic violence through community outreach) and EDventure International (creating equal opportunities through education).
On dealing with negativity, Cheryl believes that you cannot change people, only how you react to it – and we cannot agree more. Why waste your energy when you can instead, Eat Well, Train Hard and Love Yourself!
"Female independence and empowerment are a big part of my personal and business philosophy."
Cheryl finds it the most rewarding when she sees women change and gain self-confidence – just the simple thing of being comfortable in one's skin & body and not being afraid to wear a sleeveless top.
Definitely well versed in fitness & nutrition, Cheryl hopes to reach out to and empower more Busy Women by sharing content on fitness and nutrition with our #TEAMBUSYWOMAN community with this journal. Show her some love, and keep a lookout for it!
+++++++++++++++++++++++++++++++++++++++++++++++++
#BUSYWOMENINSPIRE Series
At #TEAMBUSYWOMAN, we believe in the importance of featuring inspirational Busy Women. Women who have so much on their plates but choose to make conscious decisions and sacrifices to lead a better life for themselves and their loved ones. Women who have had struggles in their lives but defied all odds to become who they are today.
These women are around you - they are not perfect (who is?) and still have their own challenges...but they do have stories to share and inspire from within. Don't we all need some inspiration or someone to look up to at times?
If you have a story to share or know of inspirational Busy Women, do drop us an email at [email protected]