Kickstart your New Year with a Bang! on 21 Jan 2017 (Saturday) in Bangkok. Join us for an afternoon of Fitness, Food & Wellness, Workshop and more at BASE Bangkok. Meet like-minded Busy Women & let's feel good together. We want you to live, feel and be better.

Bangkok, 21st January 2017 (Saturday)
Venue: BASE Bangkok // Noble Remix 2, Sukhumvit Soi 36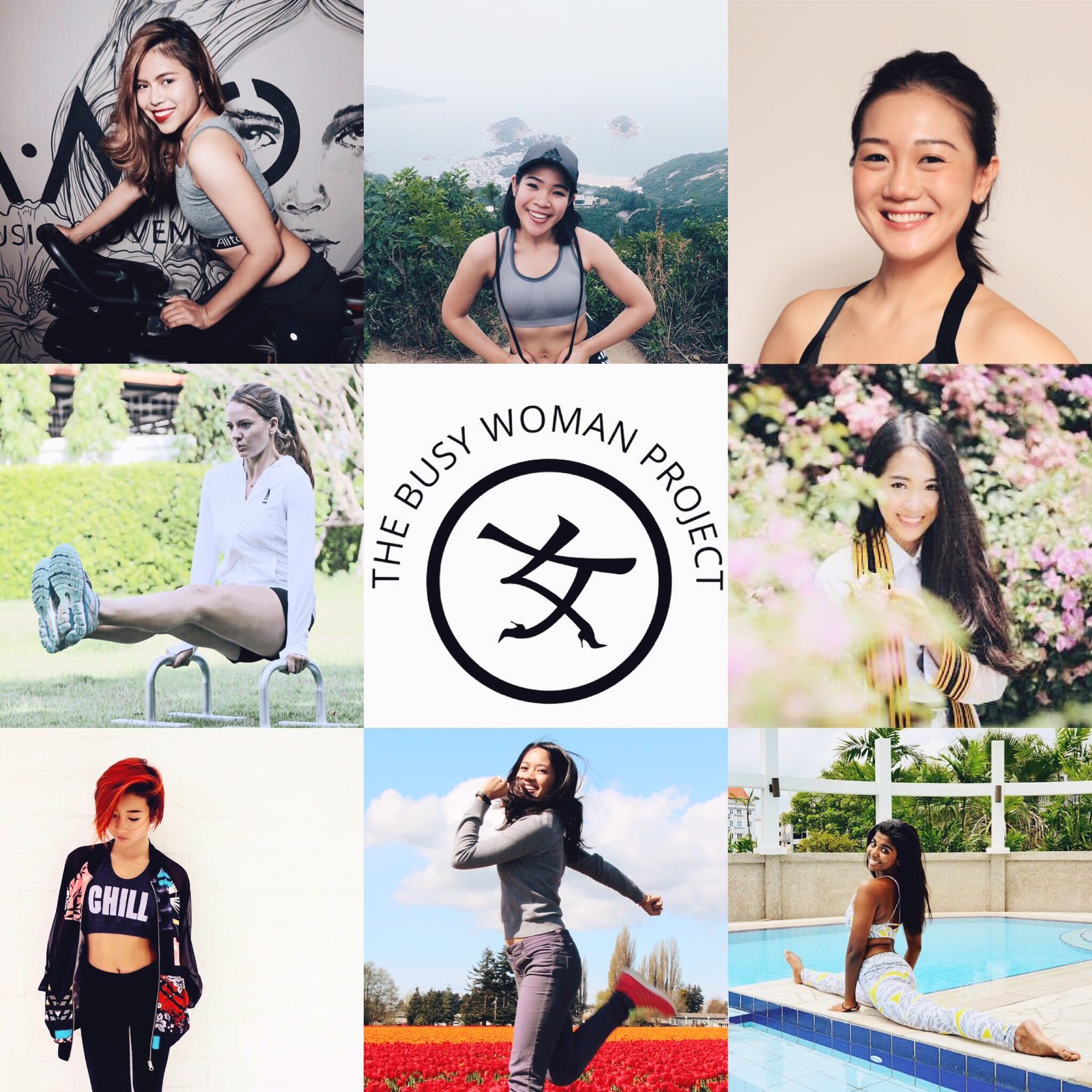 Event Format
11:30am – Registration starts for FLOW & Networking
12:30 – 1:30pm – FLOW: Theme Yoga Sculpt with Kate Telge (BASE, Community Ambassador with The Busy Woman Project)
1:00pm – Registration starts for FEED & Networking
2:00 – 3:00pm – FEED: Demo workshop with Stella Bella X Vegan Crush
3:00pm onwards – Refuel & Mingle
All inclusive in the entry price
Plus get your fix at our special collaboration Refuel Bar, Coco Loha X YourMuesliMix Healthy Dessert Stand, browse booths by Lifestyle Juicery, etc, snap fun photos / boomerangs at our Photobooth & receive your curated Goodie Bag with fitness, food & wellness goodies from BASE, Guavapass, Lorna Jane, Maprao coconut water, My Little Treats nut butters, Theta State Float Center and more!
More details to come soon...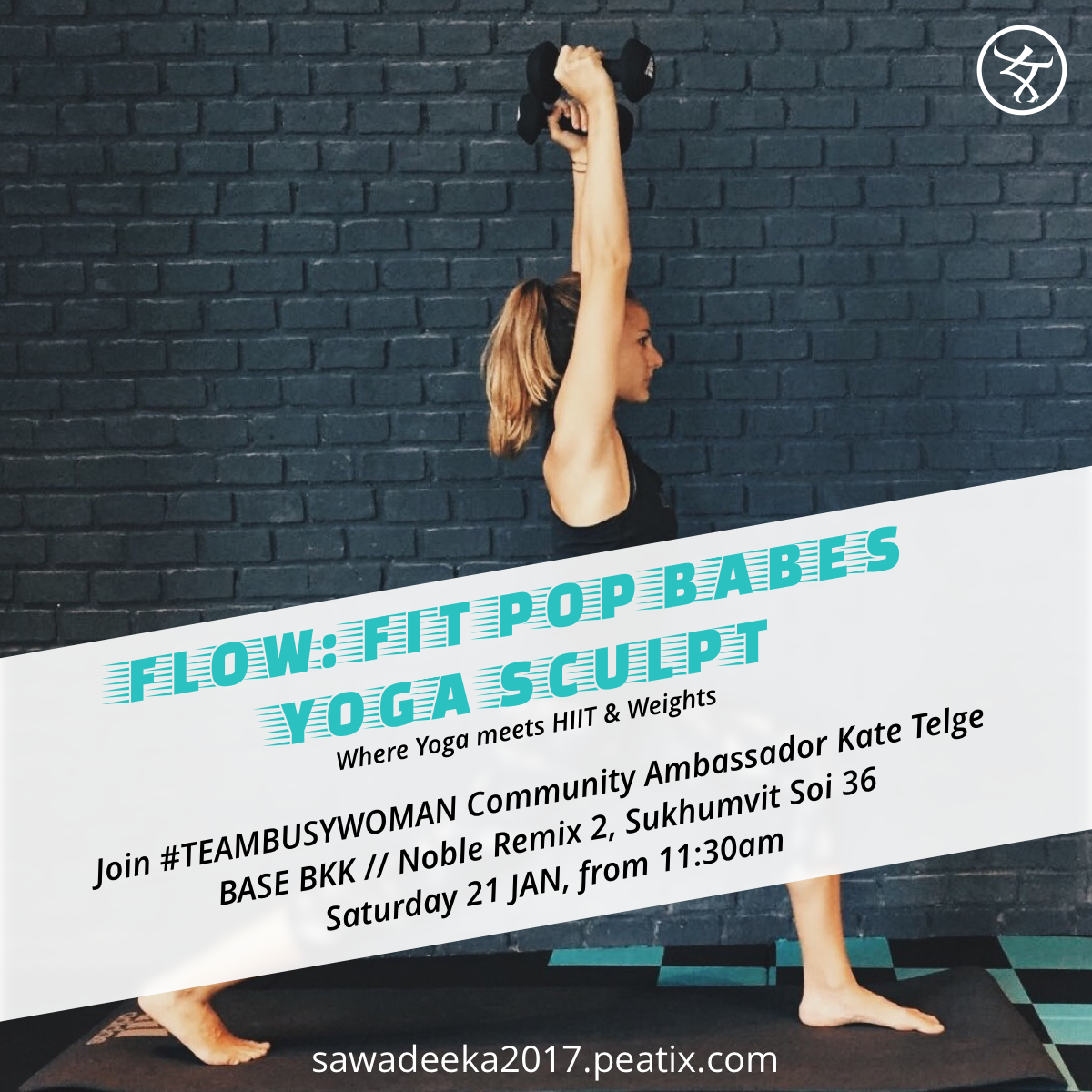 FLOW: Theme Yoga Sculpt
Sweat session by Kate Telge - where yoga meets HIIT + weights
What is Yoga Sculpt? Think yoga postures with weight training & HIIT intervals - perfect for a complete training experience!
Join BASE Personal Trainer & The Busy Woman Project Community Ambassador, Kate Telge, as she takes you through the workout to awesome FIT POP BABES hits!
Get ready to FLOW & pop those muscles to hits by the biggest female artistes around!
This session is BYOM (bring your own mat).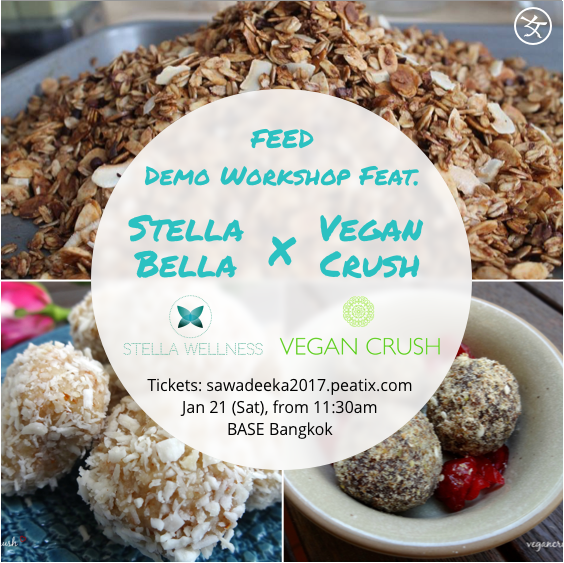 FEED: Demo Workshop
a Special Collaboration by Stella Bella X Vegan Crush
Many of us are aware of the importance of maintaining a healthy diet & living well despite our busy schedules...however, with so many things on our plates and so little time...what are some little things we can do to live better?
Learn how to make energy protein balls from natural and wholesome ingredients by Sunshine Market. And with the same materials, create a natural face & body scrub. We want you to know that living well can be simple and fun!
Participants will get to take home some delicious energy protein balls from the session.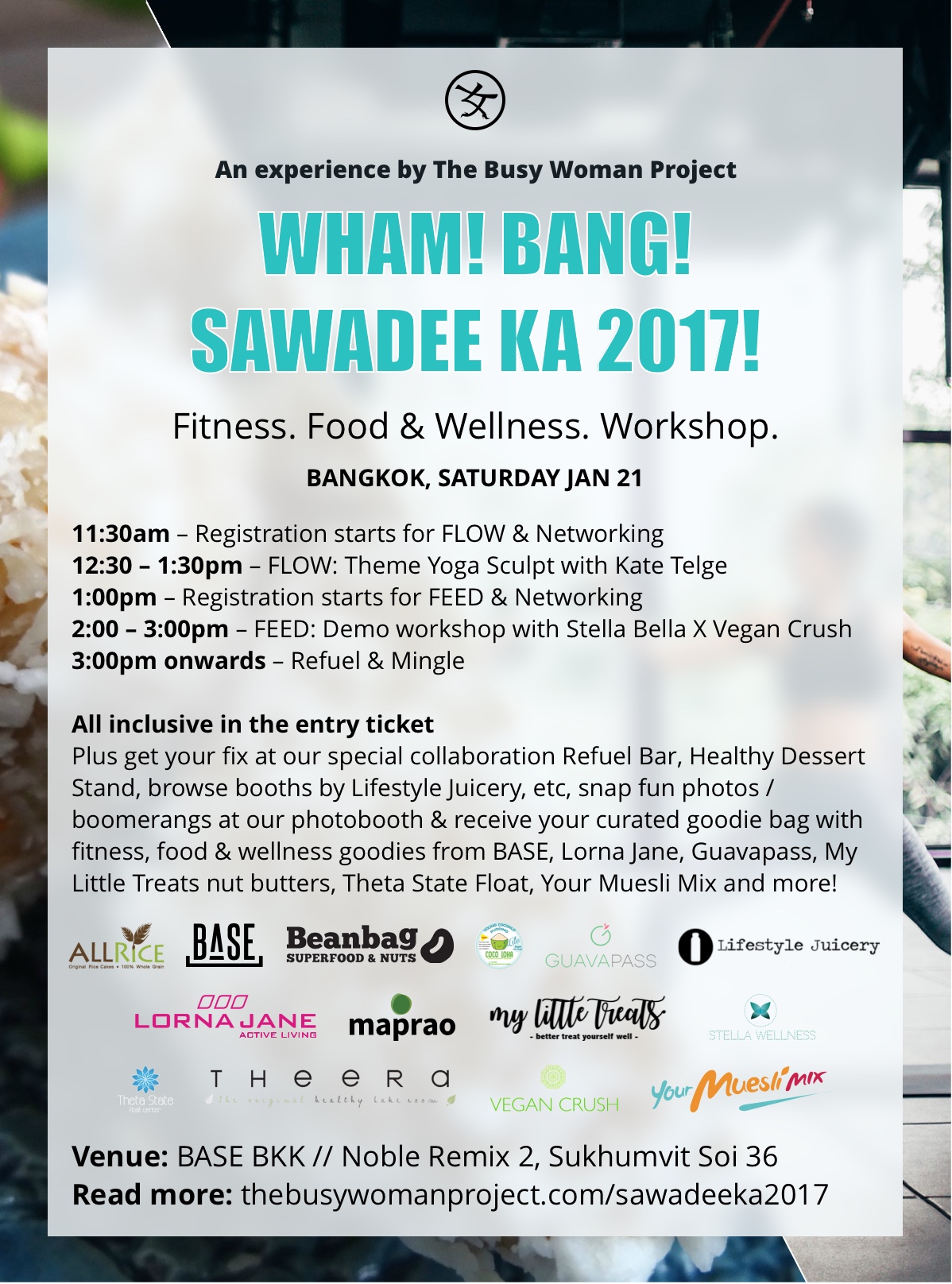 ++++++++++++++++++++++++++++++++++++++++++++
About The Busy Woman Project:
The Busy Woman Project is a community for Busy Women living in Asia to live, feel and be better.
In today's society, women are juggling multiple roles, both professionally and at home - entrepreneur, partner, student, mom, working professional, wife, friend, frequent traveller and so on. With so much on our plates, there are times when things can be alittle overwhelming, times when we strive to find that 'balance', times when we wished we had more support or someone to look up to….
We created this initiative for these very reasons - to access Busy Women living in Asia, understand the 'pain points' & goals and, more importantly, to provide the support & structure to our community.
The Busy Woman Project has Community Ambassadors based in China, Hong Kong, Malaysia, Singapore, Thailand, and has also organized community events in Shanghai and Singapore.
About BASE Bangkok:
BASE is a new boutique fitness studio with classes featuring a good blend of HIIT, strength, yoga sculpt and TRX.
All members can also get a 'BASELINE' assessment of their fitness and body composition (backed by charts and numbers), so you'll be able to track your progress! As part of the whole package and for your added convenience, BASE also has a clean eating concept, which includes a Clean Nutrition Pick Up Point.
About Kate Telge:
As a personal trainer, Kate spends most of her days working with clients and teaching group fitness classes at BASE Bangkok. Kate is also a Community Ambassador with The Busy Woman Project.
She stays busy and challenges herself to new heights by competing in races and events in Thailand and neighboring countries. Kate is competing in a vertical marathon in February and hopefully her first triathlon in May.
Kate wants to reach out to YOU to live better, both mentally and physically.
About Stella Bella:
Stella Bella is the resident wellness fairy at Stella Wellness and the Lorna Jane Ambassador for Thailand. When she is not creatively creating up a wholesome meal or menu, she is consulting for health companies. She also helps with the Business Development for Tencent's social food application, iPick.
You can find her in nature moving her body through yoga and trekking out to the rural farms around Thailand, as well as teaching others to do the same at her health & wellness workshops around Bangkok. She is constantly fuelled by her love & passion for nutrition, organic farming and creating new healthy menus - transforming lives through wholesome living. Stella is a firm believer in the healing power of living harmoniously with nature.
About Vegan Crush:
A passion for food, thirst for exploring, love for sharing and endless creativity is what drives Maricel to inspire people around the world with her healthy, unique plant-based dishes that she constantly creates to motivate people from all walks of life to become more conscious about the food that we eat.
Through consultations and personal chef service she has successfully helped people become more aware and healthier on their diet and lifestyle. Sometimes all we need is a helping hand and love and her goal is to support more people around the world to become who they want to be.